Q-SYSTEM
Capitalize on your captive audience with our modular Q-lane system. Configure to accommodate any footprint with more than 20 product categories on display. Maintaining site lines across the store, our system manages traffic flow on a first-come-first-served basis. Sales doubled in most categories resulting in impressive 12-14 week ROI.
---
Bread Table
The bakery department is a priority destination for most shoppers and the perfect opportunity for impulse sales. Developed as a fully shop-around merchandiser with access from all directions, our tiered bread table was designed to optimize product visibility, maximize shopper engagement, and highlight seasonal favorites in this high traffic flow area. Our robust framework is constructed from tube and wire then finished with wood accents to complement the in-store bakery section.
---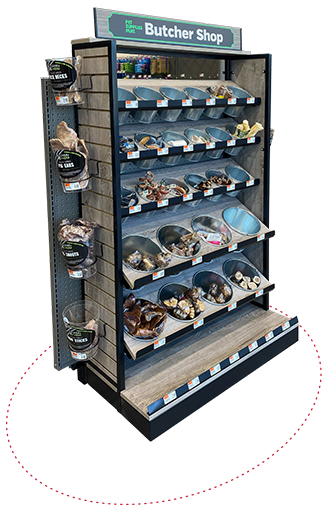 Butcher shop
In-store destinations drive increased traffic and invite new shoppers to your store. At Nashville Display, we are all about irresistible shopper destinations for consumer and their 4-legged best friends. In collaboration with a national Pet Retailer, we have developed a variety of in-store destinations and we are delighted to reveal our new high-visibility Butcher Shop End Cap displaying a variety of dog treats for easy selection. We believe that everyone should eat, treat, repeat.
NASHVILLE DISPLAY DELIVERS INNOVATIVE IN-STORE SOLUTIONS
Nashville Display understands the complexities of creating a retail environment that reflects your brand vision. Our customized in-store displays optimize product placement and improve shopper engagement, resulting in elevated brand awareness, increased sell-through, and improved return on investment (ROI).
To help our clients manage the shift from in-store to on-line order fulfillment, Nashville Display has developed a range of equipment solutions for improved materials handling efficiency. By developing custom solutions that integrate with your existing warehouse systems, we have successfully streamlined back-room operations for our brand and retail partners.
From simple executions to complex roll-out programs to fully customized fulfillment systems, we deliver solutions which showcase our expertise in metal, wire, wood, plastic, and mixed materials fabrication.
---
PROBLEM SOLVERS &
RETAIL ENVIRONMENTS EXPERTS
. . . . . . . . . . . . . . . . . . . . . .

To fully understand each of our client's goals, budgets and program needs, our team employs an intensive process of discovery. This disciplined approach not only results in product quality that exceeds client standards and timely reporting on critical milestones of each project, but also ensures ongoing communication and unparalleled customer service.

Our industry expertise and structured project management facilitates our ability to execute results-driven, relevant solutions that are engineered for efficiency and always on-budget and on-brand.
RETAIL ENVIRONMENTS is our specialty
. . . . . . . . . . . . . . . . . . . . . .

Nashville Display has a diverse client portfolio across a variety of retail segments, including Mass Merchant, Drug, Convenience, Big Box Grocery, Farm and Fleet, Automotive, Liquor and DIY channels.

Our brand solutions expertise is broad and wide, crossing multiple product categories such as home improvement, automotive, apparel, sporting goods, entertainment, pet care, beverage, food and snacks, housewares, grilling and outdoor, flooring, cleaning products and more.
ON-LINE ORDER FULFILLMENT
IS OUR PASSION
. . . . . . . . . . . . . . . . . . . . . .

Whether your customers decide to order on-line for curbside pick-up or for home delivery, Nashville Display is partnering with clients to drive efficiency through your order fulfillment process. We transform your warehouse or back-room racking into a fully functioning stock handling and order fulfillment system. Our customized solutions for apparel, sporting goods, food and beverage products, homewares and many other categories are designed to integrate with your existing pick-pack facility systems for improved product management and order fulfillment efficiency.